Adventure Travel:
Resources
Here are resources for adventure travelers: books, magazines, web sites, etc.
---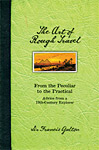 The Art of Rough Travel
By Sir Francis Galton

Reading this book was so much fun! The first edition was written in 1855 and this is a compilation of the fifth edition written in 1872...
Read Our Review.
---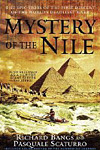 Mystery of the Nile
by Richard Bangs and Pasquale Scaturro

In modern age, we tend to feel like the entire earth has been discovered and there are no new adventures. Not true!
Read Our review.
---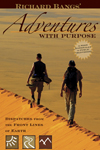 Adventures with a Purpose
by Richard Bangs

Richard Bangs, an eminent and respected conservationist, Web pioneer, ambassador, and explorer in this book travels to exotic and difficult environments, but with a new purpose.
Read Our review.
---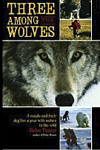 Three Among the Wolves
by Helen Thayer

Helen and Bill Thayer, accompanied by their part-wolf, mostly Husky dog, Charlie, set out to live among wild wolf packs, first in the Canadian Yukon and then in the Arctic.
Read Our Review.
---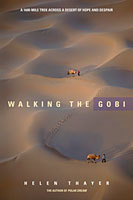 Walking the Gobi
by Helen Thayer

When most people think of adventure travel, they don't think about walking the entire 1600 mile length of the Gobi Desert.


Read our Review.
---
---

Don't Forget the Duct Tape by Kristin Hostetter

I have always thought there should be a book about all the uses of duct tape and was thrilled to find this pocket book to take with me...

Read our review.
---

BEYOND GORP: Favorite Foods from Outdoor Experts
by Yvonne Prater

One thing I found most older hikers have in common is they do not want to eat the same old thing every day while hiking...

Read our review.
---
We hope you not only learn something new, but will also share your experiences with us. Send in your adventure travel experiences and share them others! Send us an email with your experiences, reviews, comments or suggestions, or if you cannot find what you are looking for, email us. If you add to our knowledge by sending us pictures, your story, information, and/or product reviews, you may even be selected for our weekly feature!