Health: Resources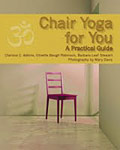 Chair Yoga For You

We found this book perfect for those who can't do regular yoga, or just want easy exercises they can do at home, at work or traveling....
Read Our Review.
---
Here are some additional resources for Prehab:
We hope you not only learn something new, but will also share your experiences with others. If you cannot find what you are looking for, please email us. If you add to everyone else's knowledge by sending us pictures, your story, information, and product reviews, you may even be selected for our weekly feature!