Cycling Stories:
Cycling at 65
by Mike Sutherland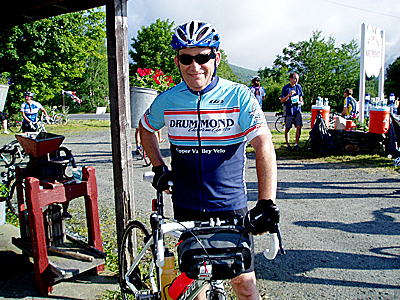 About a year ago, as I was about to turn 64, I was faced with a choice between exercise (and diet) or pills. My cholesterol was a bit high and my blood pressure was border-line. I was taking a statin which was helping my cholesterol, but it also brought all of the muscle and joint problems which were supposed to be so rare. I knew that my doctor was eyeing medication to reduce my blood pressure if I didn't take care of it. To make a long story short, I chose exercise; I decided to take up cycling in a more serious way. The result is that my cholesterol is down; my blood pressure is down; my heart-rate is down; and, so far, a baby-aspirin is the only medication I take. What follows is the story of my successful journey into cycling and a more-healthy lifestyle.
Choosing a Bike:
I had ridden my mountain bike on the dirt roads and highways near my home, but it was never as comfortable or enjoyable as I thought it should be. I decided to get a new bike that was more suited to roads since I didn't plan to ride on trails – too many visions of me communing with trees in unhealthy ways. As I tried to decide what kind of bike I wanted, I was pretty sure I didn't want a 'road' bike with those tiny seats, skinny tires and drop-down handlebars. It seemed to me that a hybrid would be a better choice. It would allow me to ride on gravel roads and still work OK on pavement; the tires weren't that skinny, and the handlebars looked and felt more like a 'regular' bike.
So I went to a couple of bike shops to try out a hybrid, and I found out that there were also commuter bikes, and touring bikes and cyclo-cross bikes to name a few. I also found that the bike shops tried to be helpful and make suggestions about which bike was the 'right' size and would meet my needs; but, in the end, they were perfectly willing to sell me any bike I wanted that 'felt good' after a 15 minute test ride. I was a little lost about how to make an intelligent choice and suffering from sticker-shock from the notion that I might have to spend $800 or more to get a bike that I wanted, plus more for accessories.
About that time, I was talking with a physical therapist and friend who suggested that I go to this bike guy she knew who did 'bike fittings.' I never heard of such a thing, but I took her advice. I made an appointment with Dick Drummond at Drummond Custom Cycles in Enfield, NH -- hands down, the best decision I made in this whole process.
I spent nearly 2 hours peddling on an adjustable bike frame with Dick tweaking the height of the saddle, the distance between the saddle and the handlebars, the height of the handlebars relative to the saddle, etc., etc. It didn't take him that long to make the adjustments, but he took the time to let me ride until I settled in and was a little tired to see how my body would naturally position itself before he tried to fit me. He then suggested a bike for me to try and set it up with my measurements; it was a road bike! We talked about each bike type with their pluses and minuses, why some styles wouldn't fit my body, and how he could adjust components to fit my needs. And I learned.
I first rode a Scott bike with an aluminum frame. It was a nice bike which was within my 'adjusted' price range. I could immediately tell the difference in position and relative comfort compared to my mountain bike which was never the right size for me. Still, the smaller tires and solid frame transferred each bump to my wrists and seat. I talked that over with Dick, and he suggested that I try a bike with a carbon frame if I could consider the extra cost. Well, no harm in trying. Right? You can guess the rest. The carbon frame flexes just enough to absorb some of the shocks from road 'imperfections.' It's also lighter and more responsive, and…. After a lengthy discussion with my wife, I bought a Scott CR1 Team. I have never regretted my choice for a moment.
Setting Goals:
I work best with short-term goals. I know that 'exercise is good for my health', but that's too nebulous for me. It is simply too easy to skip a day of exercise or training because…whatever. I discovered that charity rides are organized for many organizations in every part of the country. I recommend them to you for many reasons. They provide great motivation. After you have publically announced your intent to participate and asked friends and relatives to pledge $ to support your effort, there is just no way to gracefully back out. You have to get ready for the ride. Each event includes shorter and longer rides so you can match the ride to your fitness level.
And, at my age, if you pledge to ride a Century (100 miles in one day) as I did, you have to prepare if you want to survive! The organizers also provide great support: there are many other riders taking part which makes it much easier to keep peddling as well as to find riding partners and make new friends. In addition, first-aid, food, drinks and mechanical assistance are provided at regular intervals on the course.
It is a safe environment. In the larger rides, town and State police help manage the roads and intersections. Finally, you are helping to support worthy causes. To celebrate my 65th year, I plan to complete three century rides in 2012: "The Prouty" which starts in Hanover, NH, and supports the Norris Cotton Cancer Center; the "Green Mountain Getaway" in Burlington, VT which supports multiple sclerosis research; and the "Three Notch Century" in the White Mountains of NH for the benefit of Northeast Passage which provides adaptive sport and recreation programs for disabled athletes and veterans.
Training:
I'm fortunate to live in a rural area with beautiful scenery and many circuit routes of varying length and difficulty which I can access from my driveway -- so no excuses. However, as I looked for training guidance, I found that most cycling sources were aimed at 20-somethings, not at me. I did find an article which I found quite helpful called Training for Older Cyclists at www.ultracycling.org. I also bought a heart-rate monitor which I wear when I ride, especially when I train. I am not a racer – never will be.
I use the monitor to pace my ride and to keep me from letting my ego make me stupid. This is a problem that most men think they out-grow, but…not so much. Using a standard heart-rate chart, my heart performs at aerobic, anaerobic and VO2 Max levels comparable to age 55 rather than 65. But… it didn't start out that way, and it doesn't perform that way at the beginning of the riding season, either. It will never perform like another cyclist who is 35. I want a stronger heart, not a heart attack.
Each person will have to set up a training regimen which fits his/her goals and needs. Listed below are thoughts from what I learned in my first year of serious riding.
The secret to position, stamina, and strength in riding is in your core muscles. Cycling will strengthen your core; strengthening your core will improve your cycling.
Weight training is a necessary part of training. Strengthen the muscles you use in cycling and the muscles you don't use as much. Keep your body mechanics balanced.
The 'IT band' (Iliotibial Tract or Band), which goes down the outside of your thighs, doesn't like repetitive motion. Mine needs special stretching and strengthening to keep it happy.
Ride regularly. I ride 3 to 5 days a week = 75 to 100 miles per week during the riding season. Normally, I ride a 24 mile circuit three days a week and a longer 30-45 mile ride one day a week. It's not always possible to do them all, but your body will come to expect the exercise. It will let you know, feel out-of-sorts, if you don't get on the road. If you have to skip a couple of weeks, you will have to re-start training at a more moderate level. Older bodies just don't rebound as fast as we would like (another good time to use that heart-rate monitor.)
Use your gears. Learn to ride with rhythm, to pedal at a steady rate. Don't worry about speed and time. As your pedal rotation rate increases, speed and time will take care of themselves.
Creatine Monohydrate is a protein powder. According to CSPI, there is evidence that, when used in conjunction with exercise, it will help restore and build muscle mass which we normally lose as we get older. I have found it very helpful. Do your own research; make your own decision.
Learn to maintain your bike. Keep it clean; lubricate your chain; get a good air pump with an integrated pressure gage and keep your tires properly inflated; learn how to adjust your derailleur.
Stay hydrated!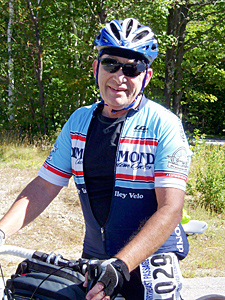 Century Rides:
My first century ride was not originally planned. I has signed up to ride 50 miles in the Prouty which supports the Norris Cotton Cancer Center. I was riding in honor of Paxton who was three years old and fighting modulloblastoma (brain cancer) which is a nasty disease with a lousy prognosis. As part of my fundraising, I promised to ride a Century if people contributed $1000 or more. I was thinking, of course, that I would never raise that much. About a month before the ride, I boosted my training to get ready for the Century! Unfortunately, I will be riding in Paxton's memory this year.
The story below is my account of my second century ride in 2011. The route for the Three Notch Century (www.threenotchcentury.org) was changed last year because of severe road damage caused by hurricane Irene. I had a great experience, and I look forward to riding the normal route in 2012. The White Mountains in NH provide a spectacular backdrop for any activity; the ride is a great challenge and a real learning experience for anyone who participates.
Three Notch Century – The Story
September 10, 2011
OK, after sleeping 12 hours (I never sleep 12 hours!), here's the story. I arrived at the North Conway Grand Hotel parking lot at 6:15. After registering and drinking one too many cups of coffee, I put on my skull cap, knee warmers, wind vest, helmet, etc., and we left the North Conway Grand Hotel parking lot at 7:00am -- 52 degrees. I followed the first group of young guns out, but was soon left behind. I didn't plan to chase them anyway. My plan was to ride steady but easy for the first 35 miles in order to save strength and stamina for the climb up Pinkham Notch which I was concerned about.
About 2 miles in, I caught up with 'Scott' who seemed to be riding at my pace and introduced myself. A little while later, his friend 'Larry' caught up with us. We stayed as a group of three for the rest of the ride. It was good to have someone to talk with, and 'whine' with from time to time. Scott and Larry were both about 40 years old. Both expressed some surprise and congratulations to me for being 64, being in my first year of serious riding, and keeping up w/o problem. It turned into a perfect day: beautiful blue skies and temps in the low-mid 60s.
The ride was a steady climb, with a steeper section at the end, from mile 3 to the top of Bear Notch at mile 22. First part was up the Kangamangus Hwy and then onto Bear Notch Road. The SAG (Stop And Go) stop at the top of Bear Notch was welcome. They had some food and 'pick your own tree' for potty needs -- gals not real happy with that. Volunteers handed out TP as needed, but Hurricane Irene had caused last minute changes which included a shortage of portable toilets. Anyway, the ride down the other side was a long coast and welcome break. I was surprised that Bear Notch Road had just been re-paved which made the ride nice and smooth.
Pinkham Notch was the part I was concerned about. I had started out with some soreness in my left knee, but the knee-warmers seemed to help. As my legs warmed, I didn't have any trouble with it so continued on. When we turned onto Rt. 16, the ride rose in stages for awhile, but from mile 39 to 44 was the steepest climb of the ride, and it came with the well-known head-wind from the north-- could have done without that for sure.
It was a 'slog' but I didn't have any problem with it. I was pleasantly surprised at that. We were all glad to have a SAG stop after the climb at Great Glen which is right across from the Mt. Washington auto road. My cousin Bob and his dog, Piper, were in the area for a hike so they met me there. He took a couple of pictures and tried not to laugh at my spandex shorts...didn't matter. I was glad to see him and appreciated his effort to be there for me. The ride from there to Gorham was pretty much downhill. I had taken off my skull-cap at the SAG, but I stopped to put it back on within a few minutes. Not sure what the temp was, but my head was cold in a hurry.
The ride from Gorham to Evan's notch road was uneventful for us except that Scott insisted on riding beside Larry so he could talk with him. That put him in the traffic lane with cars going around and honking occasionally. I thought that was 'unwise'. For me, it's a matter of physics: 3000+ lbs of metal and fiberglass vs 200 lbs of flesh, bone and carbon fiber. I don't think it's a challenge worth making.
Anyway ... The ride up Evans Notch was very pleasant. The road went along a brook, was shady, paved -- like a road through a park. However, from mile 66 to 73 it was a very steady rise which evolved into a steady, steep rise in the end. It seemed like the hardest part of the ride because there were no plateaus to get your breath or relax your muscles -- and, of course, we had been riding for about 6 hours at that point.
The SAG at the top was welcome. I finally got to a stop before they ran out of peanut butter. I ate two PB&J sandwiches. I think the young lady making them thought I was being piggy, but I didn't care. I was hungry and needed the calories at that point. The ride down Evan's Notch was very steep, bumpy, and curvy. At one spot there were State police and others where a cyclist had lost control and crashed -- broken arm I heard later. Anyway, the sun shone through the leaves and created light and dark blotches on the road which acted like camouflage for the ruts and bumps. I used my brakes a lot and the others raced ahead of me; they waited at the bottom -- wondered if I had crashed -- nope, just planning to stay in one piece.
The ride from Evan's Notch back to N.Conway was 25 miles or so. At one point I commented that we had been riding for 7 hours and my butt had just turned into a pumpkin -- time to be done! It was reasonably flat which was good. At that point, many riders could see the proverbial barn door and picked up the pace, Larry especially. There was another rider who was pretty amazing. She was tall and big-boned and strong and an amputee. Her left leg had been amputated near the hip. She had a little platform out to the side where she could rest that leg and had her prosthesis strapped to the bike.
At first I thought something had gone wrong, but not so...she peddled with one leg. She was pretty competitive as well. We passed her and her friend, and they picked up the pace to keep up with us. Pretty soon they passed me. We went back and forth a couple of times, but in the end she put on a burst of speed and road ahead in a final 'statement'. We caught up with them and road in to the finish as a group. I think there is a lesson it that. It was a good way to end the ride.
Mike Sutherland
Plainfield , NH