Hiking: Hiking Stories
This page will contain tips and stories about favorite trails, paths, meanders, and walks.
Benefits of Hiking Poles
Susan Alcorn
As a 68-year-old long-distance hiker and backpacker, I can personally vouch for the benefits of using hiking poles. I don't leave home without them...
Hiking in Scotland:
Pipesmoke

Last year we had the chance to travel to Scotland and tour alot of the country. We did some walking and biking as well as riding....



Hiking The Appalachian Trail:
Carol Pankratz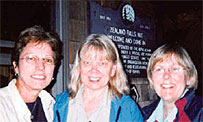 In 2003 my 2 high school girlfriends (class of '68) and I made plans to hike a part of the Appalachian Trail...