Camping: Techniques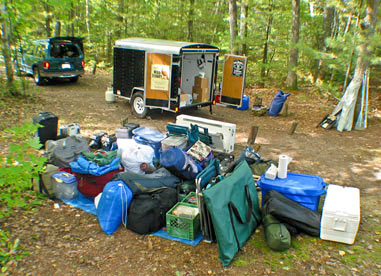 Here you will find tips on camping Techniques.
We just read in Backpacker Magazine about Survival Bracelets - they are the same bracelet we made in Girl Scouts called Friendship Bracelets. Wouldn't this be a fun tradition to start spreading to all outdoor enthusiasts? Wonder how this tradition got started, any ideas?
"In an emergency, you can use paracord for lashings, tourniquets, shoelaces, snares, tying splints, or, if you tease out the threads, even fishing lines and sewing threads. This bracelet lets you carry a useful amount at all times."
We found you need to make the short inner cord 26" and allow for shrinkage after you get it wet before you fit the bracelet for good.
We searched high and low for the best selection and price for Paracord and found campingsurvival.com. This company knows it's business. They are very helpful and responsive to requests. Plus, the prices are great! This is a site where you can buy as little as 50 feet for five bracelets, or as much at 1000 feet for 100 bracelets. They have a huge selection of colors to pick from.
How to Make a Survival Bracelet
(Backpacker Magazine website)
---