Backpacking:
Resources
---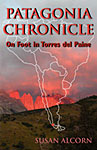 Patagonia Chronicle
By Susan Alcorn

Susan Alcorn has written a remarkable book that not only got us wanting to trek in Patagonia, but gave us all the information to make this dream a reality...
Read Our Review.
---
Still Living a Dream
by By Paralee Dawson-Hayward<

Still Living a Dream is an adventure book about hikers along the Appalachian Trail.....
Read Our Review.
---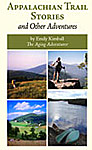 Appalachian Trail Stories and Other Adventures
By Emily Kimball "The Aging Adventurer"

We had the pleasure of meeting Emily at the Appalachian Trail Conservancy Biennial Conference and were so impressed by this little ball of fire! ...
Read Our Review.
---
Step Outdoors wants you to go outside. Whether you are interested in an easy afternoon hike or a more challenging multi-day hiking adventure, their experienced guides will tailor a trip just for you.
---
"Did you ever wonder what it is like to stay in a hiker hostel? This video gives a wealth of knowledge about the hostel lifestyle and what long distance hikers hope to see."
http://www.youtube.com/watch?v=JRVS6RWDubI
---
Books for Hikers: http://www.booksforhikers.com/
This site was created by eArThworm, who is a librarian with a deep love and knowledge for the out of doors.
---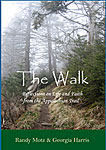 The Walk
by Randy Motz and Georgia Harris

We read this book in one sitting because it was inspirational, yet easy to read We love how Randy and Georgia use the trail to explain dealing with life
Read Our Review.
---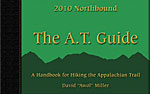 The AT Guide
by David "AWOL" Miller

There are many books written to help the hiker on hikes along the Appalachian Trail. Until this book, we find, we have had to pick out information from many resources every time we want to a hike.
Read Our Review.
---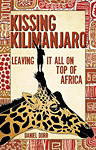 Kissing Kilimanjaro
by Daniel Dorr

Have you ever thought of something and acted up on a whim? Daniel admits that he decided to hike to the summit of Kilimanjaro to impress the woman he was dating...
Read Our Review.
---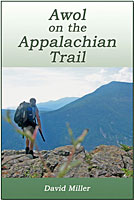 AWOL on the Appalachian Trail
by David Miller
There are many books written about thru hikes on the Appalachian Trail, but not too many from older hikers. In 2003, David Miller, quit his job to backpack 2172 miles from Georgia to Maine.
Read our review.
---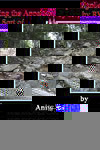 Exploring the Appalachain Trail,
sort of... by Anita Hartigan

Finally, a book is written for trail angels, support groups and families and friends who want to meet hikers on the Appalachian Trail. There are many trail books to help the hikers, but what about the support people ...?
Read our Review.
---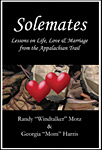 Solemates – Lessons on Life, Love & Marriage from the Appalachian Trail
by Randy Motz & Georgia Harris

There are many books written about long distance hiking but this book stands out, not only as a must read, but one to be reread!
Read our Review.
---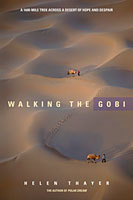 Walking the Gobi
by Helen Thayer

When most people think of adventure travel, they don't think about walking the entire 1600 mile length of the Gobi Desert.


Read our Review.
---
Don't Forget the Duct Tape by Kristin Hostetter
---
BEYOND GORP: Favorite Foods from Outdoor Experts
by Yvonne Prater
---
The Ordinary Adventurer by Jan Leitschuh
http://www.FunFreedom.com
This book was a joy to read! For an older woman to start backpacking, help is needed to get over all those fears. Jan addresses not only the highs but also the lows of her hike on the Long Trail, in preparation for a thru hike on the Appalachian Trail, with wisdom and humor. It is not surprising that she succeeded the following year in her thru hike. She may not think she is a wonder woman, but after reading this book, she is definitely a wonderful woman to emulate.
---
Walking on the Happy Side of Misery by J.R, 'Model-T' Tate
http://www.modelt.homestead.com/
There are many books written about thru hiking the Appalachian Trail, but few are this enjoyable from the first page to the last. This book written by a 53 year old first time thru hiker in 1990 gives insight as to the differences older hikers face, and with humor that comes with being age advantaged. What is even more amazing is that Model-T has thru hiked three m ore times, in 1994, 1998, and 2006! Model-T is not getting older, he is getting better!
---
Trail journals:
http://trailjournals.com/
This site is designed to unite journal writers with journal readers. We currently have 193,965 journal entries, with over 2,238,457 miles of hiking, 246,841 trail photos, and 1118 hikers in our directory. It is our goal to create an environment for people to share their outdoor adventures with everyone. If you currently have a journal site on the World Wide Web somewhere and would like to have it a part of Trail Journals create a new account and join our community today.
If you are planning to hike the Appalachian Trail, the PCT or any other trail and would like to have your journal online you have come to the right place. If you are one of the many out there who enjoy reading journals bookmark this site and get ready to hit the trails with us.
---
U.S. Trail Walker.com is a website developed to give backpackers a forum to discuss all ideas and questions about backpacking. Check it out, a great way to learn from others. No question is considered silly, we all started knowing very little. I learned so much about how to backpack from similar forums that aren't in existence anymore.