Backpacking:
In-Camp Techniques
How-tos for successful over-fifty backpacking camps.
---
Bear Baggin'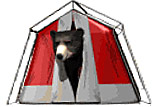 "The black bear population in Florida is on the rise and with it an increase in bear/human contact. This summer has seen several potentially dangerous situations, particularly in the Ocala National Forest and all three national forests have issued regulations requiring food to be hung or stored in a bear-proof container..."

Read more by downloading BearBaggingTechniques.pdf.

Copyright (c) 2009 Deborah Blick and the Florida Trail Association
Used with permission - Thanks!
---