Kayaking the Okefenokee
National Wildlife Refuge
by Sue Turner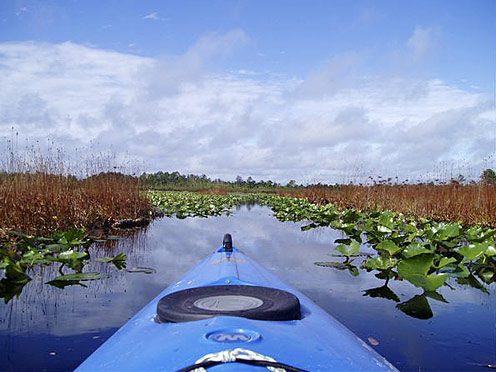 This account gives you a very good idea of what it is like to take a five day kayak trip. Not only is Sue an experienced outdoor adventurer, but a descriptive writer. She lets you know when thing go well and when they don't. We love how she helps others plan trips in her writing.
Pre-trip Notes:
The Okefenokee National Wildlife Refuge (ONWR) is a habitat that is put aside and maintained by the government as a safe place for our wildlife to live, migrate to, reproduce and hang out in safety. With the way the construction is going up down in our neck of the woods it is definitely a good thing that we still have a few places on the east coast that the wildlife can be safe in.
The ONWR does allow some human intrusions into the refuge. Those humans can be armed with nothing more then cameras and binoculars. The only way of travel in the refuge is by boat-canoe-kayak. The motor boats are only allowed in to a few passageways. The majority is strictly by canoe or kayak. I use the latter. In order to keep the human infiltration down in numbers only a few are given permits into the back country. In order to get a permit you need to call the ONWR 3 months in advance of your proposed trip. Certain times of the year are the most sought after naturally due to weather and bugs in the south. Those times would be the Spring and Autumn. We had tried last March to get in a 5 day paddle trip but I was not quick enough and we settled for the 3 day trip that was left.
This time really wanting to get my preferred itinerary I was up and by the phone at 6:45 a.m. I dialed the Refuge number and it began to ring at 6:59 a.m. No answer, damn I was to eager. I quickly hit the redial at 7:00 a.m. only to get a busy signal. I continued to hit the redial and after numerous busy signals I got an answer. Well, the person before me had reserved a route that would conflict with mine so I was forced to take my second option (always have 2 routes, possibly 3 planned in advance.) In reality I like this option better as it was one day longer, the only down fall was that I had already paddled the first 2 days and was looking to do something new. This from the lady who hikes on the AT over and over again.
The trip route we got was #12:
DAY 1: Kingfisher Landing to Maul Hammock
DAY 2: Maul Hammock to Big Water
DAY 3: Big Water to Floyd's Island
DAY 4: Floyds Island to Canal Run
DAY 5: Canal Run to Suwannee Canal Recreation Area
Once your reservation is made you have 2 weeks to get your check to the ONWR. The cost is $10. per night, per person. Our fee came to $80. Now it was time to hook up with an outfitter to shuttle us between the two launch points.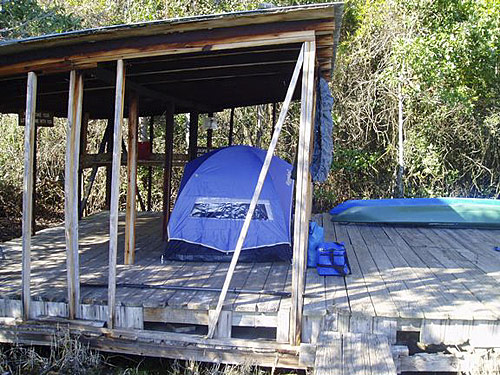 TRIP -- DAY 1: Kingfisher Landing to Maul Hammock
We were at the shuttler's trailer and load up our gear and kayaks by 7:00 a.m. By 7:30 we were driving into the Suwannee Canal Recreational Area to park the Jeep. The Joe drove us over to Kingfisher Landing. Upon arrival we meet a small group who had spent the night at the canoe/kayak launch. This is prohibited and they could have been fined if a ranger had come by. Last night it rain buckets and buckets of water, all of their gear was wet and strung out to dry. Nothing like starting out on a trip already wet.
We quickly loaded the kayaks. Then we sat on the dock for a donut & chocolate milk breakfast. We were slipping into the water by 8:45. It was still early and we couldn't get a handle on the weather. At the time of our departure it was still pretty cloudy. No sooner did we reach the first mile marker when it started to rain. On went the rain jackets and of course the rain stopped. We kept the jackets on and by mile 3 decided to take them off. As soon as the jackets were off it began to rain. We played the game off and on for the first 5 miles. Then the clouds seem to break and the sky was turning blue.
We stopped at mile marker 7 to have lunch. Most of the trails have a Day Use shelter along the route that you can get out of the yaks and stretch, eat and use the facilities, this particular route, which is the longest, does not. So after eating we managed to do some stretches in the kayaks.
As we entered into Ohio Lake the sun was out, the skies began to turn blue and it was a lovely day. We were definitely enjoying our day of paddling. The nice weather lasted for about an hour. As we were near mile marker 10 the sky was completely clouded in and the winds had begun to pick up. The last 2 miles into Maul Hammock were rainy with hard wind, it was a push to get to the platform and off of the water. The weather was so fickle it seemed as soon as we got to the platform and started unloading the clouds began to break and sun again was trying to shine through.
We enjoyed a pleasant evening if not a bit cold on the platform looking out at the lake.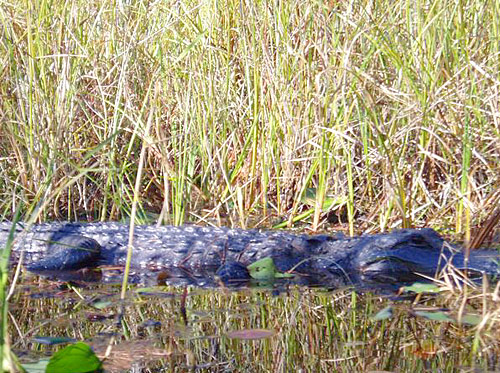 TRIP -- DAY 2: Kingfisher Landing to Maul Hammock
First let me say that last night was wicked!! There was a wind storm that was totally crazy. I swear that I felt our tent move about 6 inches and that was with the two of us in it. I got up a number of times to check that the gear was secure, it was but I just could not relax enough to go to sleep soundly. I must admit that the roar and howl of the wind was awesome to listen to.
It was pretty damn cold this morning coming out of our warmed up little tent. The rules of the refuge are that all paddlers be on the water by 10:00 a.m. so we stumbled out around 7:00 a.m. There was still a light breeze but it was just more cold then strong. Jed made up some coffee & tea, while I began dropping the tent and stuffing the sleeping bags in to the dry bag.
We were on the water at 9:00 a.m. sharp. The first hour of our paddle was against some harsh wind that had kicked up. It made the paddling hard as you really needed to push and the cold hitting my face didn't help much either. Somewhere a little after 10:00 a.m. the winds died down and the paddle went back to a nice relaxing stroke.
There were not as many birds or gators through this area as we had seen back in March, but enough to make the paddle interesting. We saw endangered Wood Storks, Great Blue Herons, Snowy Egret, and a couple of Red-Shouldered Hawks. Jed saw a number of Anhinga. One was sitting in the water in front of him and then went under and he never saw him come up. The other was mostly submerged in the water and went under as Jed's kayak approached. We didn't realize that Anhinga went under water like Loons. We also saw some Gray Catbirds and Wood ducks.
Jed and I both just seemed to go in to our own little worlds and paddled quietly until we reached the first of the two" Day Use Shelters" we would pass today. It was around 11:15 a.m. a little early for lunch but it was a good spot so we ate early. Did some stretches and headed back towards today's designated platform.
Going around a bend in the water we came upon two adult and a juvenile Ibis. I tried not to paddle as not to make any noise and scare them away while I snapped off a picture. Then the current took me into a tree and the noise startle them, off they flew. It is neat getting that close to birds.
We passed the second" Day Use Shelter" without stopping knowing that our platform was just up ahead. We reached Big Water Platform about 3ish. Our shoulders and hips were happy to call it a day. Damn arthritis!!!! It was nice to see that the Carpenter Bee's that greeted us here in March were no longer there.
It was another relaxing afternoon on our little platform, we watched the birds fly up and down the channel like it was a busy highway and the resident gator came out to say hello. We read a little of our book "Eldest" book two in the Inheritance Trilogy, by Christopher Paolini. Played a little Rummy 500 (no scores taken). Then it was dinner, chilling out time, hot cocoa and bed. It was cold again but not as cold or windy as the previous night.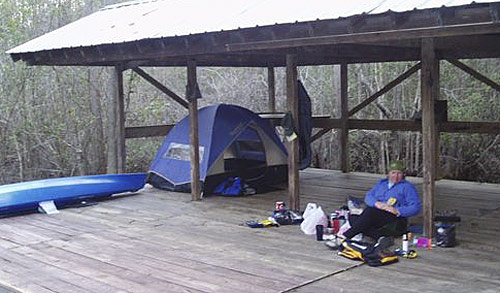 TRIP -- DAY 3: Big Water to Floyd's Island
We knew we had a really short day on the water so we slept in again this morning. Around 7:30ish we hear this noise. At first the noise seemed like a buzzing and I thought the carpenter bees had returned. Then it seemed more like a clicking noise and Jed said he hear splashing. We got up on our elbows to look out the back window as the noise intensified. There were birds, hundreds of them, I lie not. They were mostly Ibis but there were a few egrets in the mix eating in the small pools of water behind the platform. I really wanted to get my camera but it was out on the platform and I knew the unzipping of the tent would scare them away. So, we just sat there and watched and enjoyed this wonderful encounter. Then Jed whispered something and one of the birds heard him. He flew and with in seconds they all were flying up into the trees where they sat for a few minutes and then off to a quieter pool. It was absolutely a great way to start the day.
Once out of the tent we pretty much followed our normal routine of packing up and eating breakfast only at a slightly slower pace. We got on the water @ 10:00a.m.. As we were turning the corner and leaving the platform area the resident gator was lying on the edge of the water as if to say good-bye to the cheap Turner's who would not share their food with him. As with bears feeding them is only signing their death warrant as they will become aggressive and then need to be put down.
I can not tell you how fantastic our morning paddle was. My pictures can in no way show you the wonder we felt being in such a place. Every pool we came across was full of birds, 100's and 100's of birds. If I said that I saw a 1000 birds this morning I would probably be falling short. Ibis, Egrets, Sandhill Cranes, Wood Ducks, Blk & Turkey Vultures... more then I even know the names of. It felt like we were in a magical land.
The trail was pretty and diversified as well. All to short though, as before we knew it we were in this little cove that ran out of water. We were at Floyds Island. We walked up the trail to find one of the carts that the book mentioned and to check out this little cabin. Wow! Little cabin, I think not. It had a living room w/fireplace, 3 bedrooms and two large porches. The porches appeared to have been replace just recently. The cabin itself was spotless and very inviting.
We loaded the gear on the cart and transported it up to the cabin. Since it was a short walk we carried the kayaks. We settled in and just enjoyed the morning. After Jed cleaned out all the ash from the inside fireplace, he cleaned out the fire circle. I dug out all the ash from the cooking circle and distributed the ash out under the bushes in little bits and raked up some of the leaves in front of the cabin.
We had read in the register that the guy who was there yesterday had seen a bear in the clearing. Hummm, clearing, we don't see any clearing. So we began looking for a trail. After taking a few dead-enders Jed found the right one. It was a nice trail that was well maintained. We saw a deer and numerous piles of bear scat. Now no where in the book does it mention feral pigs but there are some on the island as I came across a whole bunch of pig tracks, big pig. Yes, I know the difference between pig and deer. We finally made it to the clearing... there sat a concrete "square". What this was all about we have no idea. Jed started to walk out on a path into the scrub beyond the "square". All of a sudden I heard him yell I'm being attacked. He was, by cactus. He had some little bitty Cacti with huge long needles sticking into his ankle, leg, back... luckily I didn't get any but as I looked down I now saw we were in a mess of them. We gingerly made our way back to the "square", where I pulled out all of Jed's attackers. We hiked back to the cabin and chilled the rest of the afternoon away.
As this was a vacation we splurged a bit and brought along our Q-grill. It is a small portable grill that we originally got to take with us when we go on day kayaks for picnics along the St John's River. So tonight the menu was STEAK! Jed the grill master got the steaks going and I made up the side dish. We even had 2 Pepsi's to go with it. We kept the steaks fairly frozen by deep freezing them, wrapped in foil, wrapped in newspaper, wrapped in foil and placed in a Ziplocs. Dinner was enjoyable at a picnic table with the glow of a little campfire. After dinner was cleaned up and the food was secured, we were warned of raccoons, we relaxed by the fire until it died out. We then moved on into the living room. We had brought our own environmentally friendly paper log with us and that we burned in the fireplace.
The book had also mentioned "Palmetto Bugs" which are large outdoor roaches, so we put up the tent in the corner of the living room. I am use to mice in shelters but I hate roaches. Turned out we never saw a single one. Like I said the place was clean. According to the notations in the cabin, the place has been maintained by Boy Scout Troop 123 out of Winter Haven, FL since 1974. That's 30 years and the place shines from under their care. I did hear a little scratching noise occasionally so I'm sure there is a mouse or two, but we never saw them either. During the night Jed thinks he heard a coon walking on the porch but it can't be verified! This was just a very, very lovely place to spend the day.
TRIP -- DAY 4: Floyds Island to Canal Run
It was rather warm upon getting up this morning, such a change from just 3 days ago. We went out side and had a leisurely breakfast as today was yet another low mileage day. I was making the "quick stroll" over to the privy, which is located on the other side of the island around 250 yards, I spied a deer. Later in the morning Jed would see 2 of them just off the trail.
This was the third morning in a row with not a cloud in the sky, just blue, blue, blue. We were looking forward to getting out in the prairie pools to see more birds. We packed up and as I did a final sweep of the cabin Jed carted the stuff over to the take-out point. Once in the water we had a short distance to paddle in a small channel loaded with submerged logs but managed without any real hang-ups. As soon as we paddled out into the open prairie we saw a large flock of birds, they fluttered and flapped a little at our entrance but on the whole just continued to eat.
Even though the trail was a mere 3.8 miles today we had to keep our eyes open for the various trail junctions. When we left the Island we were on the Green Trail. We needed to connect with the Blue/Purple Trail and then stay on the Blue Trail as it separated from the Purple Trail. The signage was pretty well in place and easy to find.
There were not as many birds today as yesterday that is not to say however that there weren't plenty of them. I saw a couple of hawks around mid-morning. There were a lot of gators out along the banks today enjoying the sun. We passed one big boy that looked as if he had just swallowed a pig whole. At one point a 12 footer slipped into the water in front of me and just kept swimming in front of me like he was leading the parade. Finally he went under and I suppose I paddled over him. I wonder how many I paddled over this trip… I know of about 6, I'm sure there are plenty I was unaware of. The one thing I wanted to see that I did not was a momma gator with her babies lined up on her back.
Before we knew it we were on the Suwannee Canal and at out platform destination for the day. This platform is called Canal Run and is also used as a Day Shelter as it lies in public kayak access waters. That means we had left the area where you had to have a permit to paddle, one still needs a permit to stay overnight at the platform. To the left of the platform the canal goes to Stephen Foster State Park and to the right the canal continues for 9.9 miles to the Suwannee Canal Red Area. The later would be our route out tomorrow.
We set up camp and then tried to busy ourselves. I would have liked to kayak for a bit but Jed's shoulders were a bit sore and if I'm honest mine were as well. So we just sat and enjoyed each other's company and our solitude knowing that tomorrow it would all end. I was praying that no day users would come by and spoil our last day in the wilderness, none did. The day concluded with a nap, some reading, a few hands of Gin Rummy and a small campfire with the second paper log we had brought.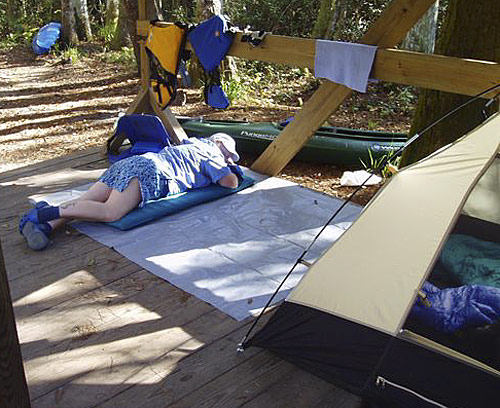 TRIP -- DAY 5: Canal Run to Suwannee Canal Recreation Area
We were up early and on the water by 8:45 a.m. For some reason last days always seem to suck. Instead of getting up and treating it like one more day of the vacation all the stuff you have to do when you get home starts to come to mind and then it seems like a hard paddle to get to the end. It would have been great to just treat it like a fun day and check out some of the little side trails but that is not how it played out. Even though the canal is pretty in it's own right it just seemed so wide and commercial after our paddle through the swamp. We expected to see people all morning and were rather surprised that we didn't.
We stopped at" Coffee Bay Day Use Shelter" and had our last snack break. We were both rather quite each in our own heads. Jed already returning to work and thinking of all the stuff that was waiting for him after a week out of the office. My thoughts were on all that still needed to be done before my Florida Trail Thru-hike and all the stuff that just wasn't going to get done.
Within moments of leaving the shelter, we encountered our first motorboat loaded down with a family out for a day of cruising. They were friendly and nice enough to slow down until clearly past us. Then there was boat 2, 3, 4...
I would love to have had another few days out there but we had gotten the longest trip available in the ONWR. I will now need to move on and find another place for Jed and I to paddle. Though I know we will be back here with our son and hopefully we can talk a few friends into coming. Strange how we always want to share it...