GENERAL RESOURCES - Book Reviews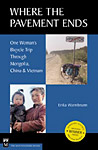 Where the Pavement Ends
by Erika Warmbruun By Karsten Heuer

http://www.mountaineersbooks.org/productdetails.cfm?PC=1079
Mongolia was Erika Warmbrunn's dream. To escape deep into parts of Asia inaccessible to tours and guidebooks, to abandon herself to the risks of the unknown. And so, with only a bicycle named Greene for a traveling companion, she set off on an eight month, 8,000 kilometer trek that stretched across the steppes of this ancient land, on through China, and down the length of Vietnam.
We felt she really embraced Mongolia and its customs. It was obvious that she fell in love with this country and gave us a great view as to the lifestyle and culture. She found that the true merit of travel was not in the simple seeing, but in flowing with the unexpected adventure or invitation, in savoring the moments in between -- the daily challenges of new words and customs, the tiny triumphs of learning a new way of life, the daunting thrill of never knowing what the next day would bring.
We rode along with her, understanding that the simplest lifestyles can many times be the most rewarding. Ericka proceeded to bike through China and Vietnam, bringing us into her feelings of the different cultures of the three very different countries. This was quite a bike trip!
...Fiftysense Product Review Panel