GENERAL RESOURCES - Book Reviews
Born to Run
by Christopher McDougal
http://www.chrismcdougall.com/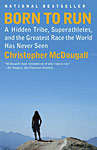 We were given this book by one of our readers. We thought, we aren't runners, will we really like this book? We were in for a delightful surprise! This gives many answers as to why feet hurt while running and walking, but it is also an amazing adventure book! We learned about the Tarahumara Indians of Mexico's deadly Copper Canyons who are a tribe of the world's greatest distance runners and learn their secrets, and in the process shows us that everything we thought we knew about running is wrong.
Isolated by the most savage terrain in North America, this tribe is custodians of a lost art. For centuries they have practiced techniques that allow them to run hundreds of miles without rest and chase down anything from a deer to an Olympic marathoner while enjoying every mile of it. We were mesmerized by their superhuman talent matched by uncanny health and serenity, leaving the Tarahumara immune to the diseases and strife that plague modern existence.
This is not only as adventure book, but also is full of easy to read research on running and ultra marathoners. With a sharp wit and exuberance, McDougall takes us from the high-tech science labs at Harvard to the sun-baked valleys and freezing peaks across North America, where ultrarunners are pushing their bodies to the limit, and finally, to the climactic race in the Copper Canyons.
Born to Run is a rare book that will not only engage your mind but inspire your body when you realize that the secret to happiness is right at your feet, and that maybe, you, were born to run, or at least walk more comfortably.
...Fiftysense Product Review Panel