Golf: Equipment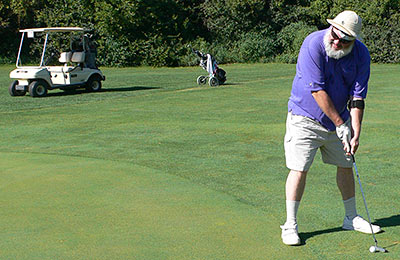 If you have ever looked at a golf department, or in magazines, your head most likely started spinning with all the different equipment and products out there. Just because there is a driver that is selling for $300 - $400 doesn't mean that it is the right one for you.
When you are in the market for new equipment. Do your homework!
Talk to golf professionals, read articles, ask lots of questions.
How golf equipment evolved over the years
Buying new clubs will take time and effort. But the right equipment has made the game so much more fun.
Hybrids
Hybrids have been called "the greatest modern golf invention" Hybrids launch the ball high and far because it's a shell-like club, similar to a 3-wood or driver. That helps to put the center of gravity in a position that improves your launch and makes it hard to hit a topped shot. Some hybrids have weight plugs towards the back that help get the ball up in the air faster. The sole is wide so it glides through the turf more easily than the equivalent iron a few years ago.
Balls
Players with slower swing speeds need velocity and lift from a golf ball. Manufacturers are finally combining high speed – super soft – cores with dimple patterns that create more lift which in turn equals distance.
Irons
Today's irons are easier to hit, they can be called more of a game improvement iron. Irons now have wider, rounder soles and a lower center of gravity to launch the ball higher in the air and combat the lack of spin generated by slower swing speeds.