Alpine Skiing: Stories
You never know when a perfect experience will happen.
Sue Turner (Hammock Hanger)

I was prepared to head home to FL after working at my friends restaurant just outside of Aspen, CO. The day before I was to leave I awoke to about 8 inches of fresh powder....
Dave Ulery: My story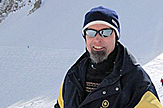 I've been a pretty active person my entire life. Always liked playing and watching sports. Played all sorts of sports from golf, baseball, softball, football, racquetball, skiing, hacky sack, Frisbee, street hockey, ice skating...

Do you wonder if you are too old to downhill ski? Here is a video of Lou Batori, downhill racing at 100 years old! We guess we have a few more years to enjoy the sport.

http://www.youtube.com/watch?v=yR-OX_KiFdY
---